Radiolink Has optimised its pixhawk flight controller PCB layout and height hold with the barometer sensor MS5611. It is a highly stable flight controller that comes from the radiolink. This controller provides more stable flight performance even at high speed. It integrated the newest 32-bit chip technology and high-end sensors, this is absolutely one of the best flight controllers for quadcopters.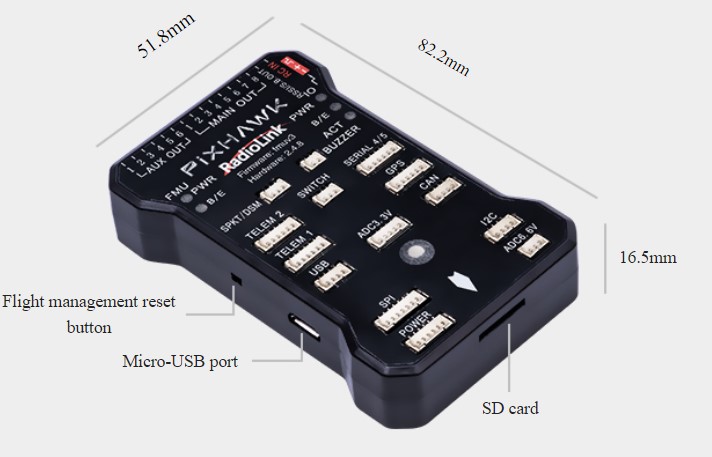 ---
Feature:
Multi-sound buzzer interface support.
Multiple flight modes, support for self-stability, height-set, hover, sports, freestyle, circling, following, return, guidance, automatic, and all-powerful.
Abundant connectivity options for additional peripherals (GPS, I2C, SPI).
14 PWM / servo outputs (8 with failsafe and manual override, 6 auxiliary, high-power compatible).
Providing a multi-sound buzzer interface.
Multiple flight mode switches freely, Helicopter, Fixed-wing, Multi-rotor, Model Car.
All interfaces are fully tested and accurately detected by an automatic detection system, avoiding bad interfaces leading to flight control installation unsuccessfully.
Support DSM Spektrum receiver.
Advanced 32-bit CortexM4 ARM high-performance processor, and 32-bit STM32STMF100 failsafe co-processor.
Equipped with buzzer, 4G memory card, safety switch and power module.
---
Hardware
Details
Barometer sensor
MS5611
Three-axis digital gyroscope
IST8310
triaxial accelerometer(E-compass)
IST8310
Six-axis accelerometer(Gyro)
MPU6000
FRAM
FM25V02
(256Kb)
All Functions Automation Software Testing System
Have
---
Radiolink Pinout Details: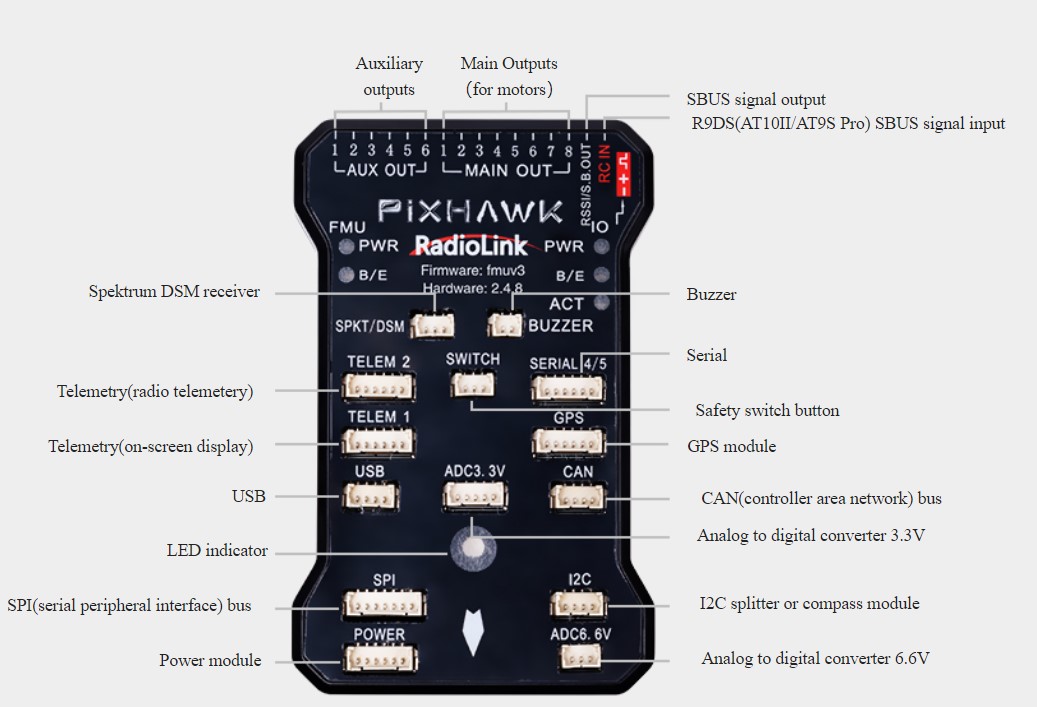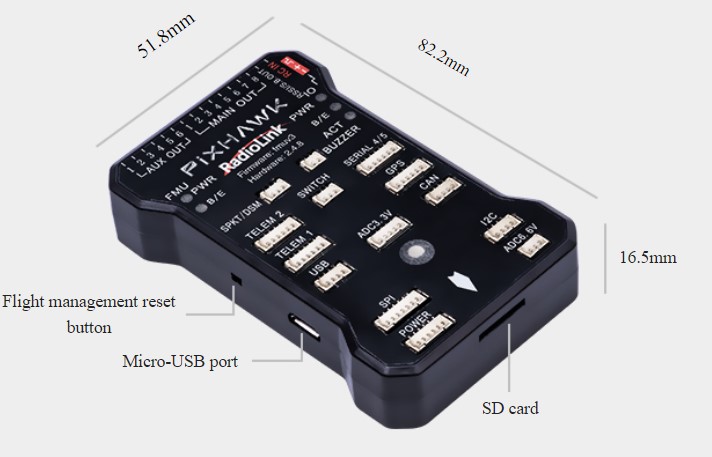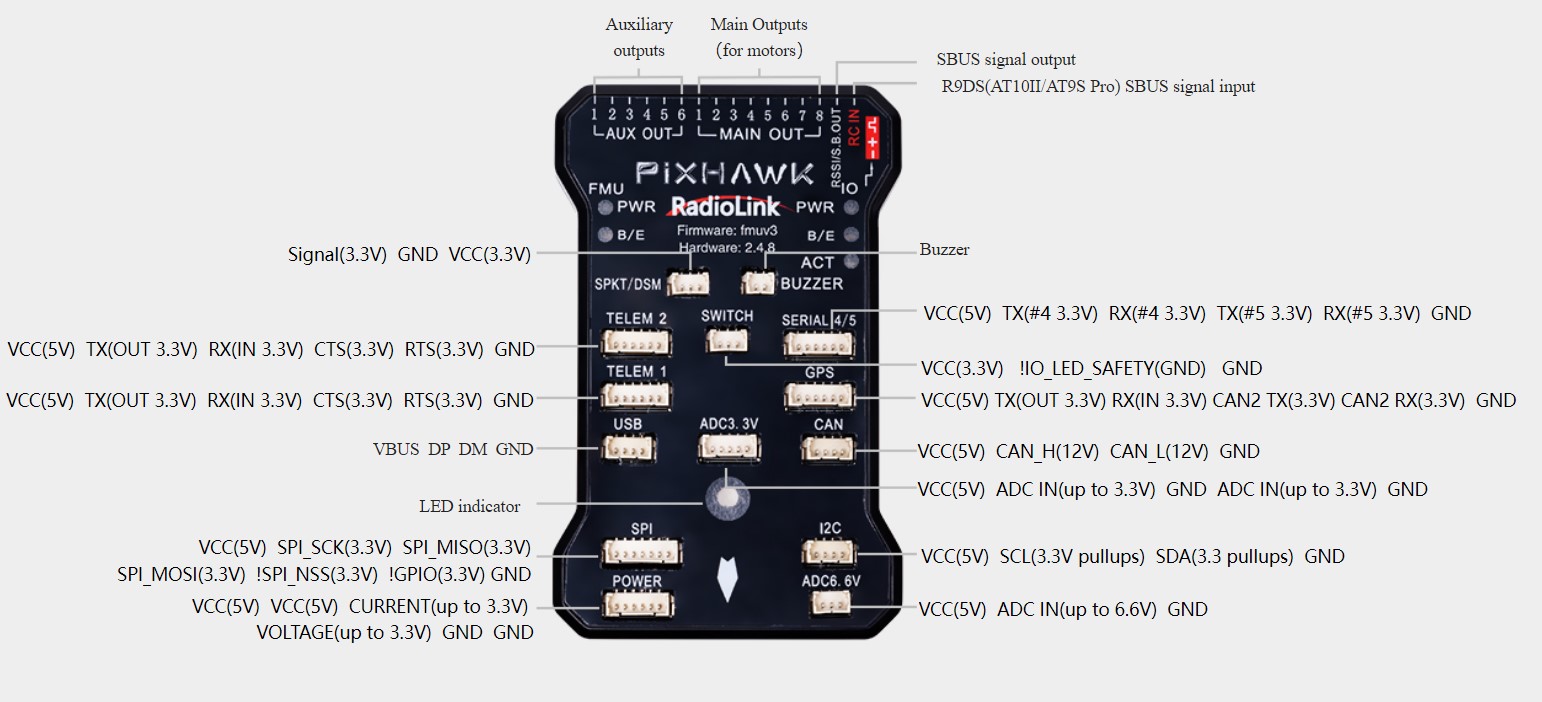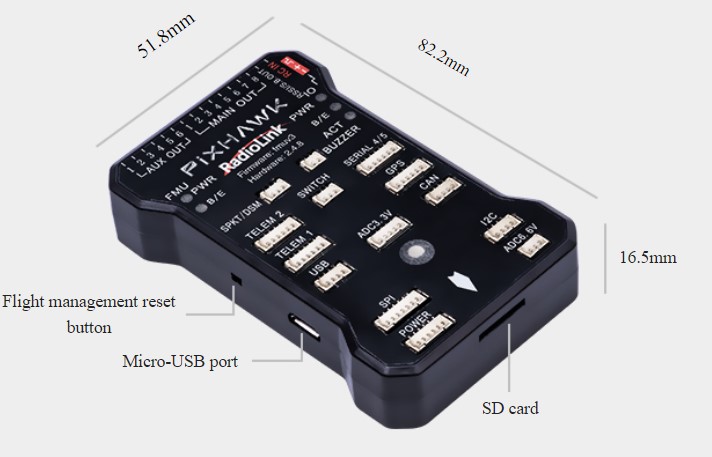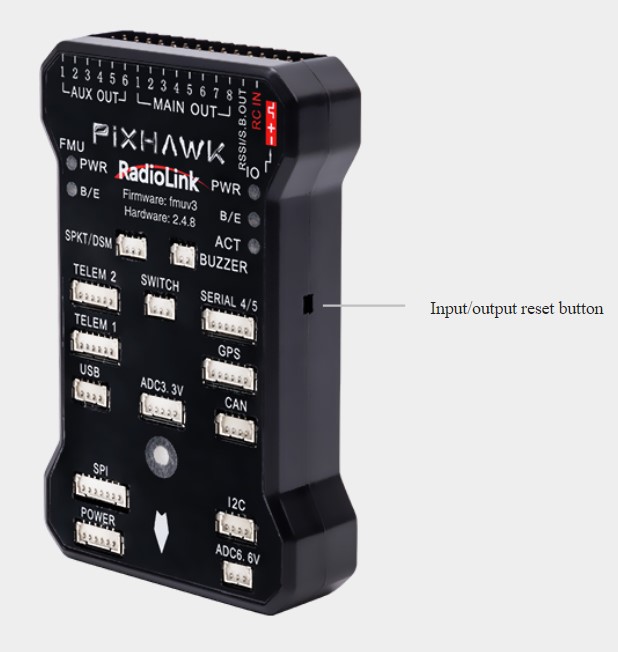 ---
Package Content:
1 x Radiolink Pixhawk main board
1 x Power module
1 x Safety Switch
1 x Buzzer
1 x connecting wires
1 x USB Cable for Programming
1 x User Manual
Technical
Processor

32bit 32F427 ARM Cortex M4 Core + FPU (floating point unit)

Frequency

168 MHZ

Memory Size

2 MB Flash

RAM Size

256 KB

Sensor

ST Micro L3GD20H 16 bit gyroscope

Flight Controller
Sensors

MEAS MS5611 barometer
Can i get GST invoice for the order ?
Yes, You can claim GST credit if you have a GST number. To do it you have to mention the GST number at the time of checkout. GST option appears in the Billing Address. If you are an existing customer of flyrobo then you can log in to your account ( Account → Address Book → Edit Address) and Then enter your GST number.

Was this answer helpful?
Showing 1 to 1 of 1 (1 pages)