The Z16 CNC Aluminum Folding Arm Tube Joint is an essential component designed specifically for drone enthusiasts and professionals seeking a reliable and versatile solution for their drone frames. This innovative tube joint offers exceptional strength, flexibility, and ease of use, making it an ideal choice for a wide range of drone applications.
Constructed from high-quality CNC aluminum, this folding arm tube joint ensures durability and stability while maintaining a lightweight design. The precise manufacturing process guarantees accurate dimensions, smooth edges, and a perfect fit for seamless integration into your drone frame.
Key Features:
Robust Construction: Crafted from CNC aluminum, the Z16 tube joint boasts excellent structural integrity and resistance to wear and tear. It provides a solid foundation for your drone frame, enhancing overall stability during flight.
Folding Design: The folding arm feature allows for convenient transportation and storage. By simply releasing the locking mechanism, the arms can be folded neatly, minimizing the drone's footprint and enabling hassle-free transportation.
Adjustable Angle: The Z16 tube joint offers adjustable angles, allowing users to customize the drone's arm configuration to meet specific requirements. This flexibility is particularly useful when adapting the drone for various aerial photography or videography needs.
Easy Installation: The tube joint is designed for straightforward installation, requiring no specialized tools or expertise. It seamlessly integrates with standard drone frames, enabling quick and hassle-free assembly.
Secure Locking Mechanism: The locking mechanism ensures a secure connection between the tube joint and the drone frame. It prevents accidental detachment during flight, providing peace of mind and enhancing safety.
Compatibility: The Z16 tube joint is compatible with a wide range of drone frames, making it suitable for hobbyists, DIY enthusiasts, and professional drone operators alike. It is designed to support various sizes and configurations, ensuring versatility and adaptability.
Whether you are building a racing drone, a professional-grade aerial photography platform, or a versatile multi-purpose drone, the Z16 CNC Aluminum Folding Arm Tube Joint offers the reliability, durability, and flexibility you need. Its exceptional construction quality and user-friendly features make it an indispensable component for any drone enthusiast or professional seeking high performance and functionality.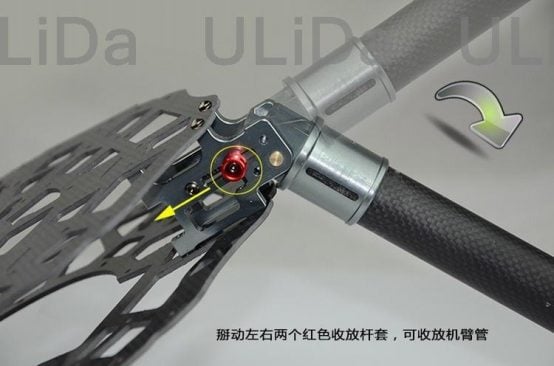 Package include:
1 x Z16 CNC Aluminum Folding Arm Tube Joint for Drone Frame
Technical
Inner diameter

16 ±3 mm

Outer diameter

20mm

Weight

43

Material

Aluminum
Be the first to ask a question.