These EMAX Brushless DC Motor are imported from original Emax products manufacturers. The brand Emax is known for quality-oriented product manufacturing in the market. Our team selects motors with different configuration and test them for their ability in the lab before supplying to customers and while testing this EMAX RS2205 KV2300 Motor for FPV Racing, we found its performance as better than most others in their class.
---
Emax RS2205 Race Spec Motors
Introducing the Emax Race Spec family of high-performance brushless motors for multirotor FPV racing. Redesigned and engineered to perform better than most in its class, every motor is precision crafted within tight tolerances. Paired with performance driven props from any leading manufacturer will result in an unreal thrust.
Cooling:
The unique fins machined into the bell draw up cool air from the motor base and through the coils as the motor spools up. The faster it spins, the more air it ventilates. Cooling fins significantly reduce heat soak by at least 30%. This "cool" feature allows the RS2205 to not only have a longer-lasting motor but also harness the power of N52 magnets.
N52 Magnets:
Uses the highest grade magnets. Better acceleration, stopping power and sustained RPMs during high kV.
Thrust:
Produces over +1,000g of thrust using 4S and GF5045BN.
Key Features:
1K+ Thrust with 4s battery and recommend propeller combo

Cooling Series Bell Design reduces the motor temperature by at least 30%

Highest Grade N52 Neodymium magnets

Genuine Japanese NMB Bearings

Each Motor is Dynamically Balanced in the factory.

15mm Extended Prop Shaft allows virtually any prop with 5mm hole.

3 Lock nuts and 2 sets of motor screws for 3mm and 4mm thick frames.

Windings made from copper of high purity
Specifications:
Model: RS2205

KV: 2300kv

Weight: Approx. 30g with wires

Wire AWG: 20AWG

Stator Diameter: 22mm

Stator Height: 5mm

Shaft Diameter: 3mm

Configuration: 12N14P

Motor Diameter: 27.9mm

Motor Height: 31.7mm

Prop Adapter Shaft Thread: M5

Input voltage: 3S-4S (12.6 - 16.8v)

KV2300 With HQ5045 BN Max.thrust:1024g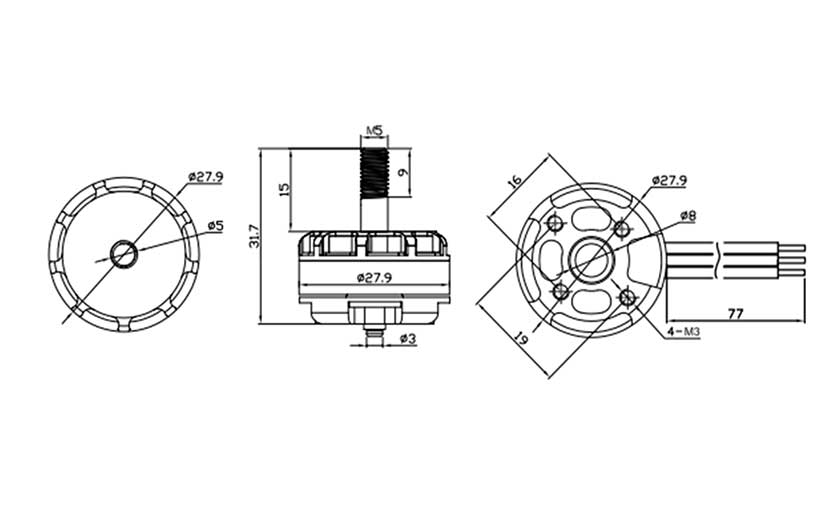 Motor type

The Voltage    ( v) 

Paddle Size

Current       ( A )

Thrust           ( G )

Power       ( W )

Efficiency      ( G/W )

speed         ( RPM )

  RS2205 -    2300KV

12

HQ5045 BN

1

62

12

5.17

6400

3

162

36

4.5

10080

5

236

60

3.93

12070

7

311

84

3.7

13730

9.1

374

109.2

3.42

15100

11

439

132

3.33

16320
Package content:
1 x CW Rotation EMAX RS2205 2300kv brushless motor Set.
Can i get GST invoice for the order ?
Yes, You can claim GST credit if you have a GST number. To do it you have to mention the GST number at the time of checkout. GST option appears in the Billing Address. If you are an existing customer of flyrobo then you can log in to your account ( Account → Address Book → Edit Address) and Then enter your GST number.

Was this answer helpful?
When will delivered order?
Order will be delivered within 1-3 days in metro city, 3-5 days in other city and 4-7 days in villages or small city. This is the average time of delivery in express shipping. but can change with different locations and different situations.

Was this answer helpful?
Showing 1 to 1 of 1 (1 pages)