DJI NAZA-M V2 Multirotor Autopilot Controller set With GPS Supports nine multi-rotor configurations, the DJI NAZA-M V2 Multirotor Autopilot Controller set With GPS acts as the brains of the aircraft, managing pilot input and interpreting data from the various sensors, helping maintain a stable flying condition. There are four components to the system.
The MC (main controller) houses the flight computer and is at the heart of the flight control system. Then there is the PMU (power management unit), which serves to regulate how much power is sent to each of the four, six, or eight rotors. Finally, a GPUs receiver/compass combo is included, which enables a number of features, including Intelligent Orientation Control (IOC) and the Go Home failsafe. CAN-Bus ports on the MC allows the Naza-M to interface with a number of DJI accessories, including the Ground Station System, the OSD Module, or a gimbal control unit (GCU).
Features Description:
DJI NAZA-V2 All in One Design

DJI adheres to continuously innovating and improving, with the new latest firmware, new attitude stabilization, and Improved hardware structure, the Naza-M V2 provides the best flight performance. This All-in-one design simplifies installation and saves space and weight of the drone. It contains inner damping, controllers, 3-axis gyroscope, 3-axis accelerometer, and barometer in its light and small Main Controller for the batter performance. It can also measure flying altitude, attitude, and distance from the origin and therefore can be used for autopilot/automatic control.

Types of Multirotor Configuration Supported

Quad +

Quad X

HEX I

HEX V

HEX IY

HEX Y

OCT X

OCT I

OCT V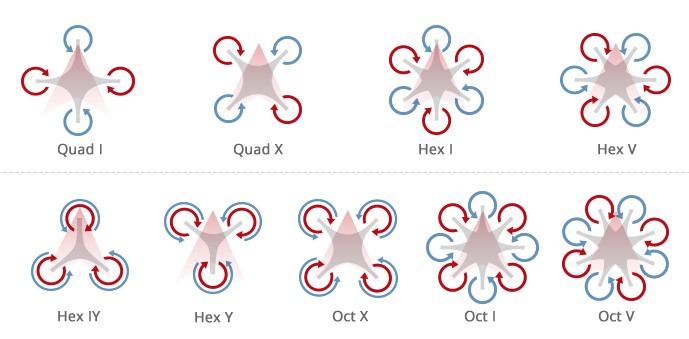 Free Ground Station Support

16-point Ground Station is available free for both iPad and PC, without serial number verification. 2.4G Bluetooth Datalink required.

Advance Attitude Stabilization Algorithm

The Naza-M V2 boasts the extraordinary stability you would expect of all DJI flight control systems and combines it with unparalleled maneuverability with and without GPS. Built into it are automatic GPS course correction plus GPS and compass interference monitoring, which combine to offer more stable flight and minimal magnetic interference.

Takeoff Assistance

Drift-free, stable take-offs on different surfaces are ensured with Takeoff Assistance.

Intelligent Orientation Control (IOC)

Forward on a multirotor is normally the direction the nose is facing, which can get confusing when turning, but with IOC switched on, the direction is hugely simplified.

In Course Lock mode, forward is the same as the nose direction recorded on takeoff.
In-Home Lock mode forward is the direction from the multirotor's current position back to home.

Motor Failure Protection

If a hex-rotor or octocopter equipped with a Naza-M V2 suffers a motor failure in flight in attitude or GPS mode, it will maintain its altitude and rotate around the stopped motor. This allows it to fly safely back to home and land.

Failsafe and Auto Go Home Support

If the connection between the multirotor and the remote control is disconnected during flight, a failsafe system will activate. Provided there was enough GPS signal at the time of the disconnection, the multirotor will fly back to its point of takeoff and land automatically. This feature can also be triggered manually using the One-Key Go-Home function activated using Assistant.

Assistance for Smartphone

Using a BTU with power-efficient Bluetooth, parameters can be adjusted at any time through a smartphone without excessive power use. Connection records are automatically stored by the Bluetooth module and protected by a password. Parameters can be automatically synchronized to the cloud and restored immediately when mobile devices are changed.
Features :
All-In-One Compact Multi-Rotor Autopilot System
New Assistant Software for Smartphones
Supported Multi-rotors Quad-rotor: I4, X4
Hex-rotor: I6, X6, IY6, Y6
Octo-rotor I8, V8, X8
Free Ground Station
Take-Off Assistance
Multiple Flight Control Modes and Intelligent Switching
GPS Module Available for Accurate Position Stabilization
Intelligent Orientation Control (IOC)
Supports General, PPM, and S-Bus Receivers
Arm/Disarm Modes for Safe Motor Starting
2-Axis Gimbal Stabilization
Two Levels of Low Voltage Warnings and Protection
Single Motor Failure Protection
Supported ESC Output 400 Hz refresh frequency
Supported Transmitters PCM or 2.4 GHz radio with at least 4 channels
Supports Remote Gain Adjustment from the Transmitter
Enhanced Failsafe Features, Including Auto Return-to-Home
Compatible with DJI Video Downlink, iOSD, Ground Station, ZH4-3D/H3-3D Gimbals, and Future Products
Supports 9 Different of Multi-Rotor Configurations, Ideal for DJI F450/F550 and E Series Tuned Propulsion Systems
System Requirements:
Assistant Software Windows: 8, 7, XP SP3
OS X: 10.6 or later
Mobile: iPhone 4s, iPhone 5, iPod touch 5, iPad mini, iPad 4
Flight Performance:
Hovering Accuracy (GPS Mode) Vertical: ±2.6′ / ±0.8 m
Horizontal: ±8.2′ / ±2.5 m
Max Angular Speed 200°/s
Max Tilt Angle 35°
Ascent/Descent Ascent: 19.7 ft/s / 6 m/s
Descent: 14.8 ft/s / 4.5 m/s
Product

Target Customer

Hardware

Software

Function Extension Ability

Major Components

AP/RC entry level

Based on NAZA V1 platform; no extension ability

NAZA lite Independent assistant software and firmware;

1.GPS (Optional) 
2.No extended function (does not support NAZAV2-PMU, Zenmuse H3-2D/NAZA OSD/NAZA BT module/IOSD)

MC
GPS(optional)
BEC/LED(Will have independent BEC and LED in the future)

NAZA-M V1

AP/RC hobbyist

Can be connected to the NAZA V2-PMU, and will have the NAZA-M V2 expansion function;

Share the same NAZAM V2 assistant software and firmware;

1.GPS (Optional) 
2.Function extension through NAZAV2-PMU: such as Zenmuse H3-2D/NAZA OSD/NAZA BT module/IOSD/Ground Station

MC
GPS(optional)
BEC/LED

AP/RC hobbyist

Optimized hardware structure;
Independent PMU module with amazing function extension ability;
Independent LED module;

Amazing function extension:such as Zenmuse H3-2D/NAZA OSD/NAZA BT module/IOSD/Ground Station

MC
GPS
NAZAPMU V2
LED
Package Includes : 
(package may not come with Yellow box packing as shown in the photo but Product is 100% original and in new condition)
1 x Main Controller Unit.
8 x Servo cable.
1 x Power Management unit.
1 x Micro USB Cable.
1 x LED Module.
2 x Adhesive Tape.
1 x GPS Module.
support@dji.com contact to get support from DJI Official. FlyRobo Does not provide replacement/refund with this product
Can i get GST invoice for the order ?
Yes, You can claim GST credit if you have a GST number. To do it you have to mention the GST number at the time of checkout. GST option appears in the Billing Address. If you are an existing customer of flyrobo then you can log in to your account ( Account → Address Book → Edit Address) and Then enter your GST number.

Was this answer helpful?
When will delivered order?
Order will be delivered within 1-3 days in metro city, 3-5 days in other city and 4-7 days in villages or small city. This is the average time of delivery in express shipping. but can change with different locations and different situations.

Was this answer helpful?
Showing 1 to 1 of 1 (1 pages)