This board has taken all the IO ports of the STM32F103C8T6 microcontroller, and users can develop their own functions. The program can be downloaded through the serial port. The AD chip has a reference voltage of 2.5V and is generated by a precision voltage regulator.
A potentiometer is provided on the board to test the AD input. The voltage generated by the voltage divider of the potentiometer is connected to AN0 through the S3 jumper, which is suitable for debugging the board without the sensor. If you do not use this test, you can take the S3 jumper off and input the test voltage directly from AN0--AN7. (The voltage input to the AD input cannot be higher than 5V).
---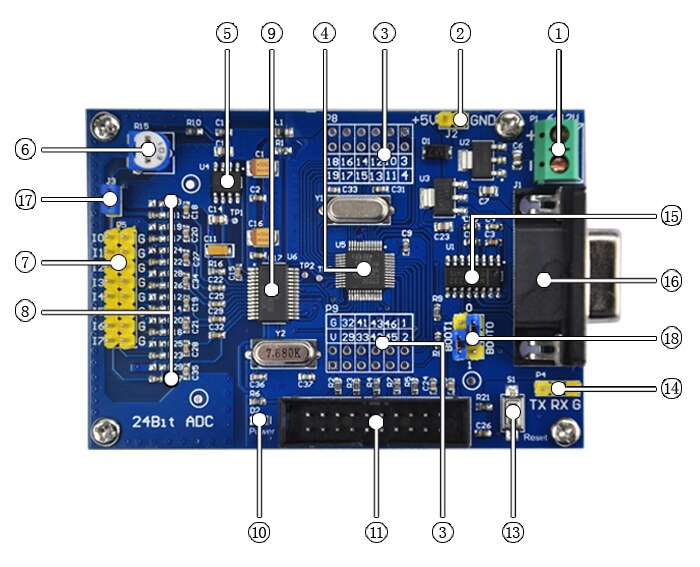 Power input terminal, input voltage range 5.5V - 12V (5V power supply, please connect directly to 2);
5V power supply input terminal (1.2 two power supplies, only one can be connected);
STM32F103C8T6 leads GPIO, which is convenient for secondary development. The silk screen directly corresponds to the pin number of the chip;
Brand new original master MCU: STM32F103C8T6;
2.5V benchmark, ultra-high precision, low temperature drift;
Adjustable potentiometer, the output adjustable voltage is linked to AIN0/ I0;
Collect 8 channels of input, I0-I7 is connected to the positive terminal of the acquisition voltage, G is the analog ground, and the negative terminal of the acquisition voltage is connected;
Input filter and attenuation resistor, default is not attenuated, leaving the position of solder attenuation resistor, 0603 package;
ADS1256IDB acquisition chip, new original imported;
Power indicator LED;
JTAG interface, designed according to JLINK-V8 or V9 definition;
 Not marked;
STM32F103C8T6 reset button;
USB to TTL wiring, corresponding to the MCU's TX, RX, GND, can communicate directly with the computer;
Original imported 3232 serial communication chip;
Serial port header, female head;
Adjustable potentiometer output voltage to I0 / AIN0 on/off control: Disconnect IO floating, connect I0 to measure adjustable potentiometer output voltage terminal;
STM32 BOOT0 and BOOT1 select control jump caps.
Package Includes:
1 x ADS1256 24 bit AD High Precision ADC STM32F103C8T6 Module.
Technical
Chip Model

STM32F103C8T6 (single chip), ADS1256 (24-bit precision AD conversion chip)

Voltage

5V

Length

87 mm

Height

15 mm

Width

60 mm
Can i get GST invoice for the order ?
Yes, You can claim GST credit if you have a GST number. To do it you have to mention the GST number at the time of checkout. GST option appears in the Billing Address. If you are an existing customer of flyrobo then you can log in to your account ( Account → Address Book → Edit Address) and Then enter your GST number.

Was this answer helpful?
When will delivered order?
Order will be delivered within 1-3 days in metro city, 3-5 days in other city and 4-7 days in villages or small city. This is the average time of delivery in express shipping. but can change with different locations and different situations.

Was this answer helpful?
Showing 1 to 1 of 1 (1 pages)